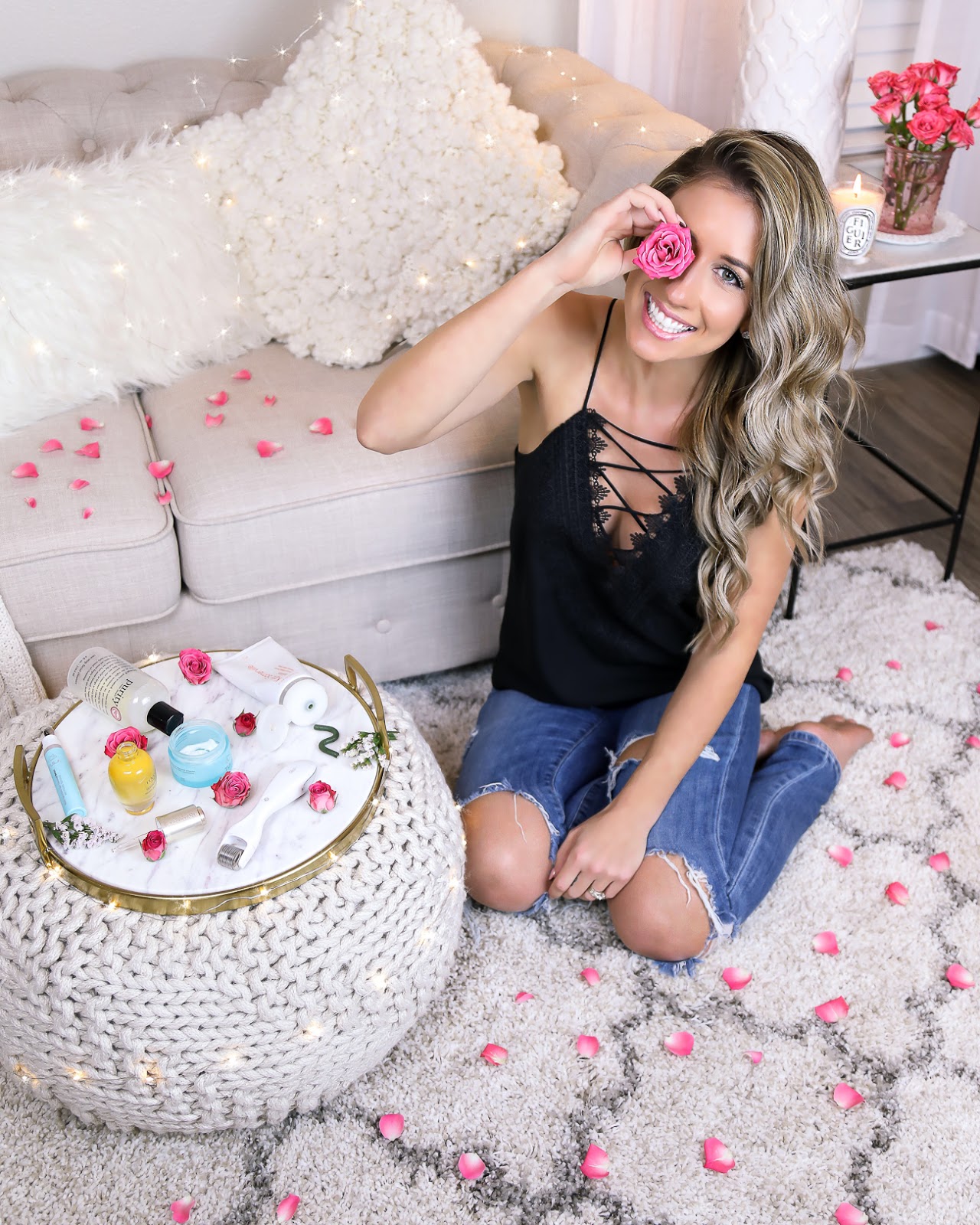 Over the last year and a half I've tried dozens of skincare products. Each time I try them for a few weeks to see how they work for my skin and see if they make a difference. Today I wanted to share my 6 holy grail skin care products from Nordstrom that I use every single day.  My skin has changed so much over the last 2 years–read more about that HERE. After much trial and error, I can honestly say I have my best skin ever and I truly believe these products, along with some minor diet changes, have made all the difference.

In the past I had a skincare regimen that consisted of 16 different products. Yeah, it was overwhelming and something I knew I wasn't going to keep up with. Since then, I've narrowed it down to 6 products I use every single day. I do use other products as well, but not religiously. As you can see, most of these are almost empty and you can bet I will repurchase every one of them. Some of these are in my Nordstrom shopping cart as we speak.
Below I've broken down my current skincare routine….
PURITY FACE WASH
I've used this face wash for years and always restock at Nordstrom when it goes on sale. It takes off all of my makeup and you can even use it on your eyes. It's gentle and leaves my skin feeling soft and moisturized.
I ALWAYS wash my face before bed and first thing when I wake up using a clean washcloth. Take a small amount and apply to damp skin for 30-60 seconds, massage face with washcloth, then rinse.
KATE SOMERVILLE EXFOLIKATE
I picked this up during the Nordstrom Anniversary Sale this past July. This has totally changed my skin! It is a little pricey, but it is unlike any other exfoliator I've ever used and worth every penny in my opinion (just read the reviews). My skin tone is more even, has less texture, and glows like never before.
I use this every other night after I've removed my makeup. Dampen skin and apply a thin layer to clean skin, massage in a circular motion for 30 seconds. Leave on for up to two minutes. Rinse and gently pat dry with a clean towel.

GLOPRO MICRONEEDLING REGENERATION TOOL
I believe this has made the biggest difference in my skin. My skin is smoother, firmer, and more radiant. Basically, the GloPRO helps your skin create new collagen to help restore skin volume. It DOESN'T hurt at all, it's just a slight tingling feeling–I actually like the way it feels. It sounds creepy but its over 500 microneedles passing over your skin to stimulate the skin's natural rejuvenation process. It also helps your skin absorb topical skin care products 200 times more effectively–I think this is why it's helped my skin so much. Definitely one of my best investments of 2017.
I use this at night 2-3x per week. I use the GloPRO in sections–chin, left cheek, right cheek, forehead. After cleansing/exfoliating skin, use light pressure and roll GloPRO horizontally over the areas 2-3 times. Then do the same vertically. Use it for at least one minute on each area of the face. **Do not use on your eyelids, lips. or nose. Apply face serums/moisturizers within the first 60 seconds after use to get the best results. Your skin will appear pink or flushed and slightly plumper after using.
TULA EYE RENEWAL SERUM 
This is the newest addition to my skincare routine but is my favorite to use. This eye serum has a cooling metal tip that depuffs making your eyes appear more awake and rested. Plus it feels amazing! It has skin-plumping peptides and caffeine that instantly relaxes wrinkles and de-puffs the undereye area. This is why I love it!! It also help reverse dark circles, sagging eyelids and bags under the eyes. Yes please!!
I use this every morning and night. Apply to clean skin. Pump to dispense the serum and gently massage around the eyes and over the eyelid with the metal tip.
L'OCCITANE DIVINE YOUTH OIL
I've been a huge fan of face oils for the past few months–I never go a day without using them. This face oil helps fight visible signs of aging. Since using, my natural skin oils seem more regular and my skin feels balanced–not too oily, not too dry.
I use this every night after cleansing/exfoliating/microneedling. Apply a few drops to your fingers then massage onto your face, neck and décolletage. It feels amazing and makes my skin super glowy.
TULA HYDRATING DAY & NIGHT CREAM
I've been using this for the last 2 years. It's a lightweight moisturizer that helps improve fine lines and wrinkles and smoothe your skin. This moisturizer helps promotes skin renewal and collagen production–basically like a multivitamin for your skin.
I use this as the last step of my routine in the morning and at night. Apply a thin layer to clean dry skin.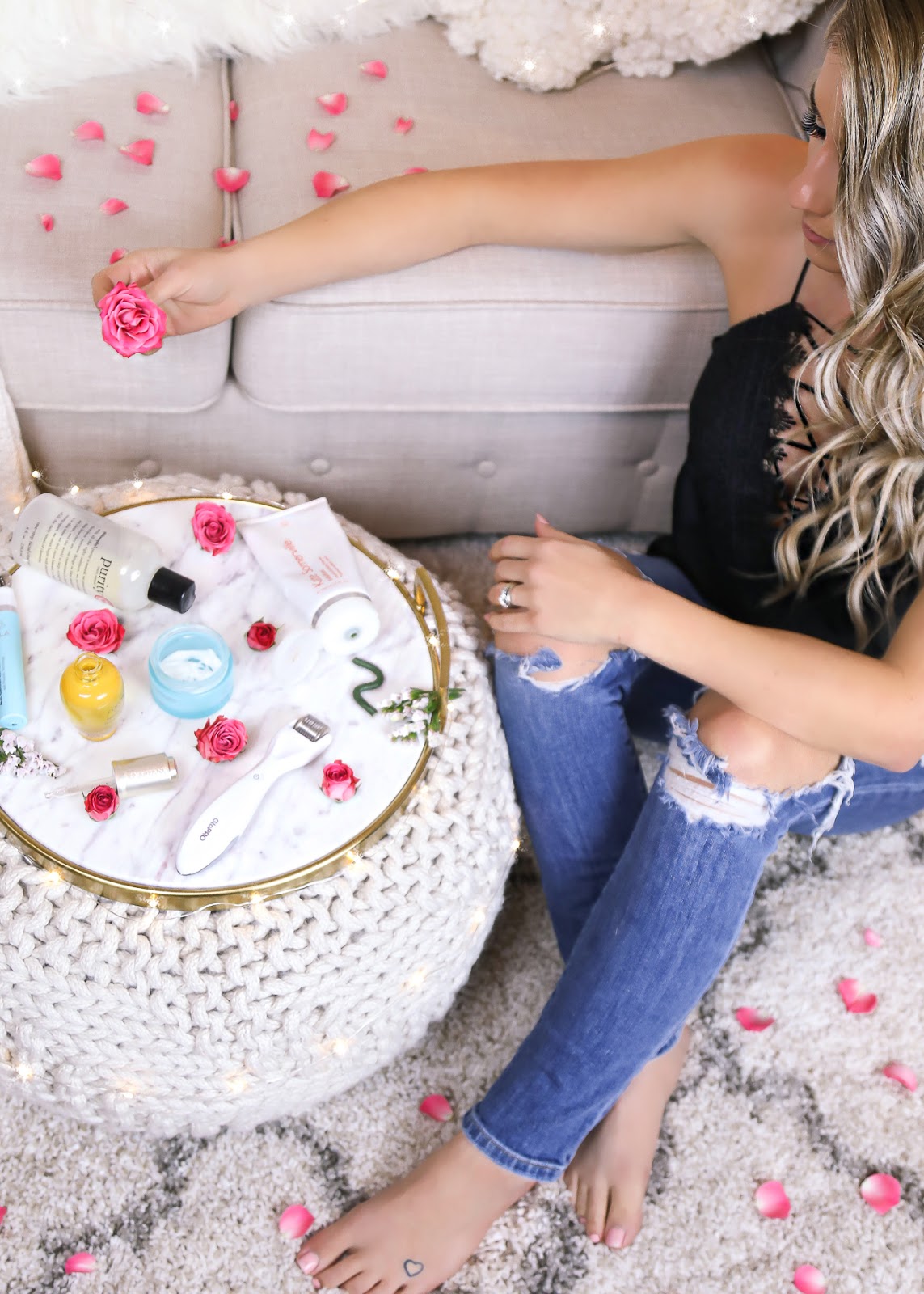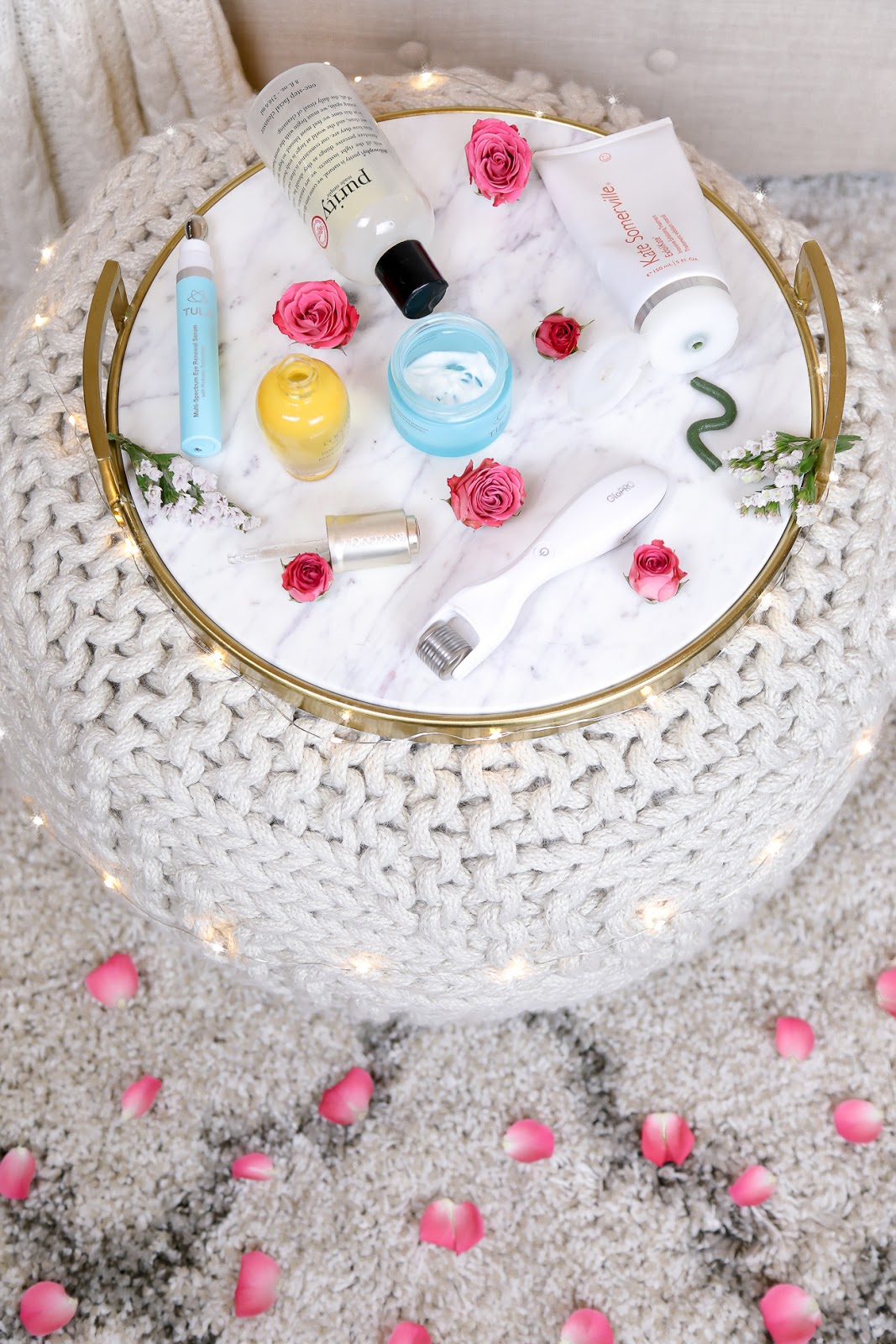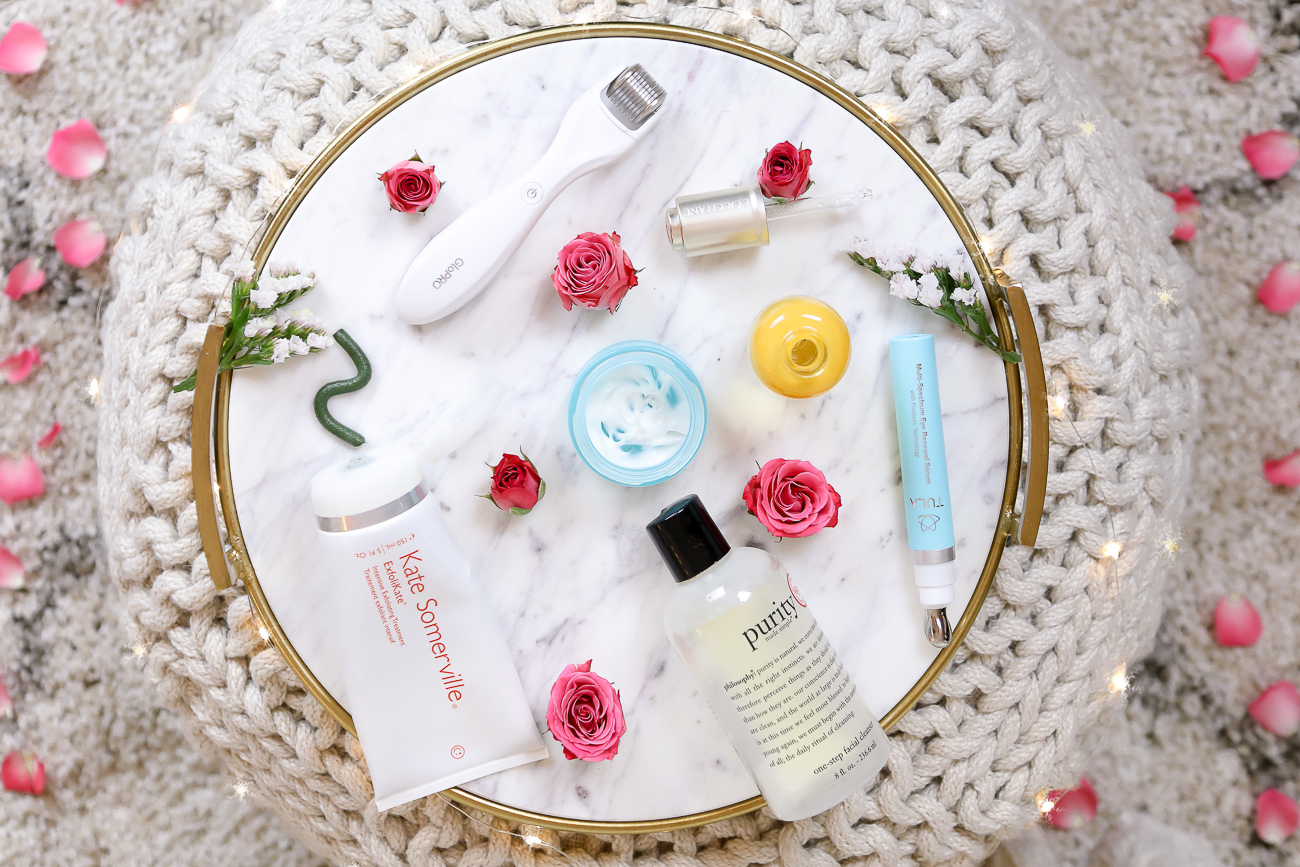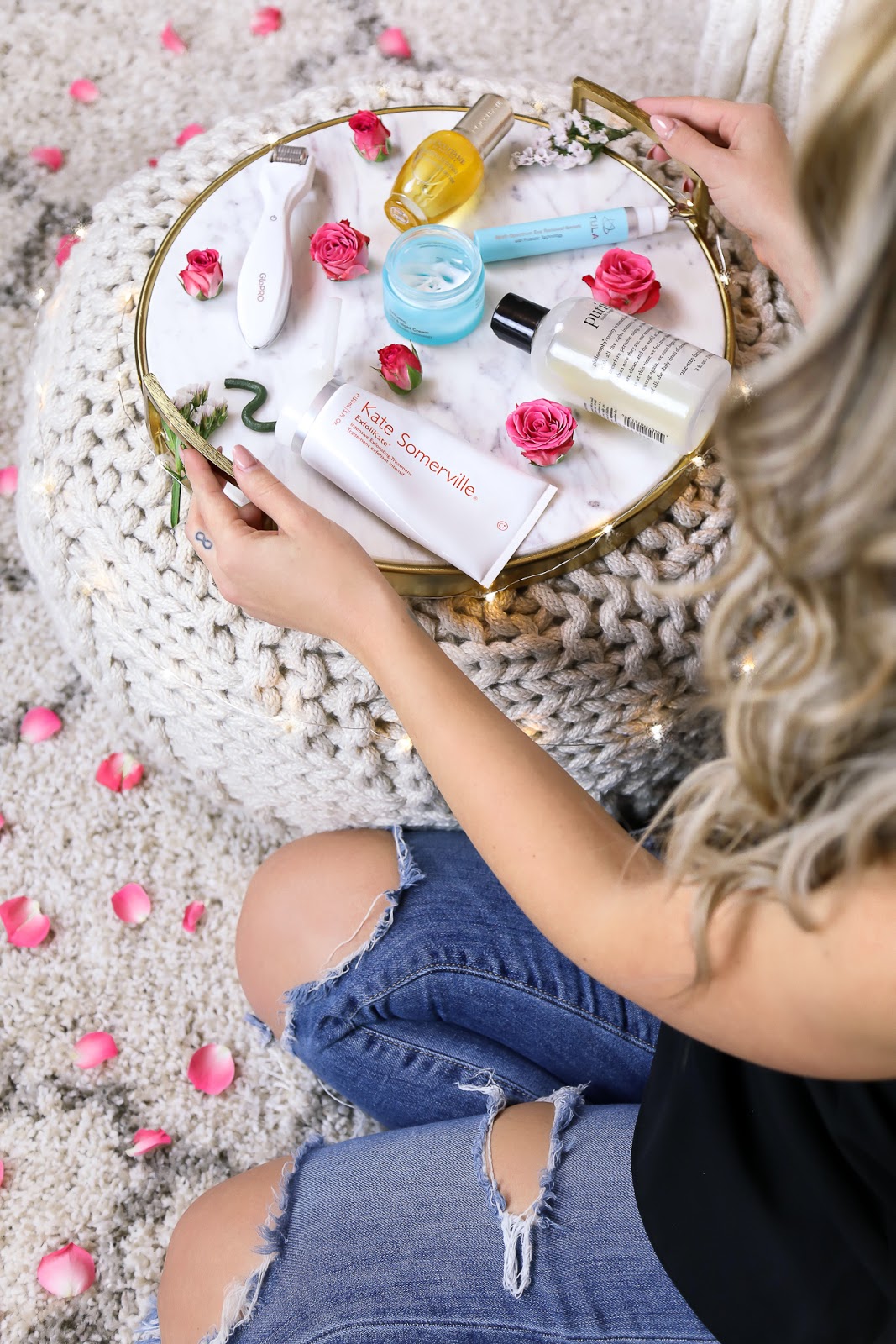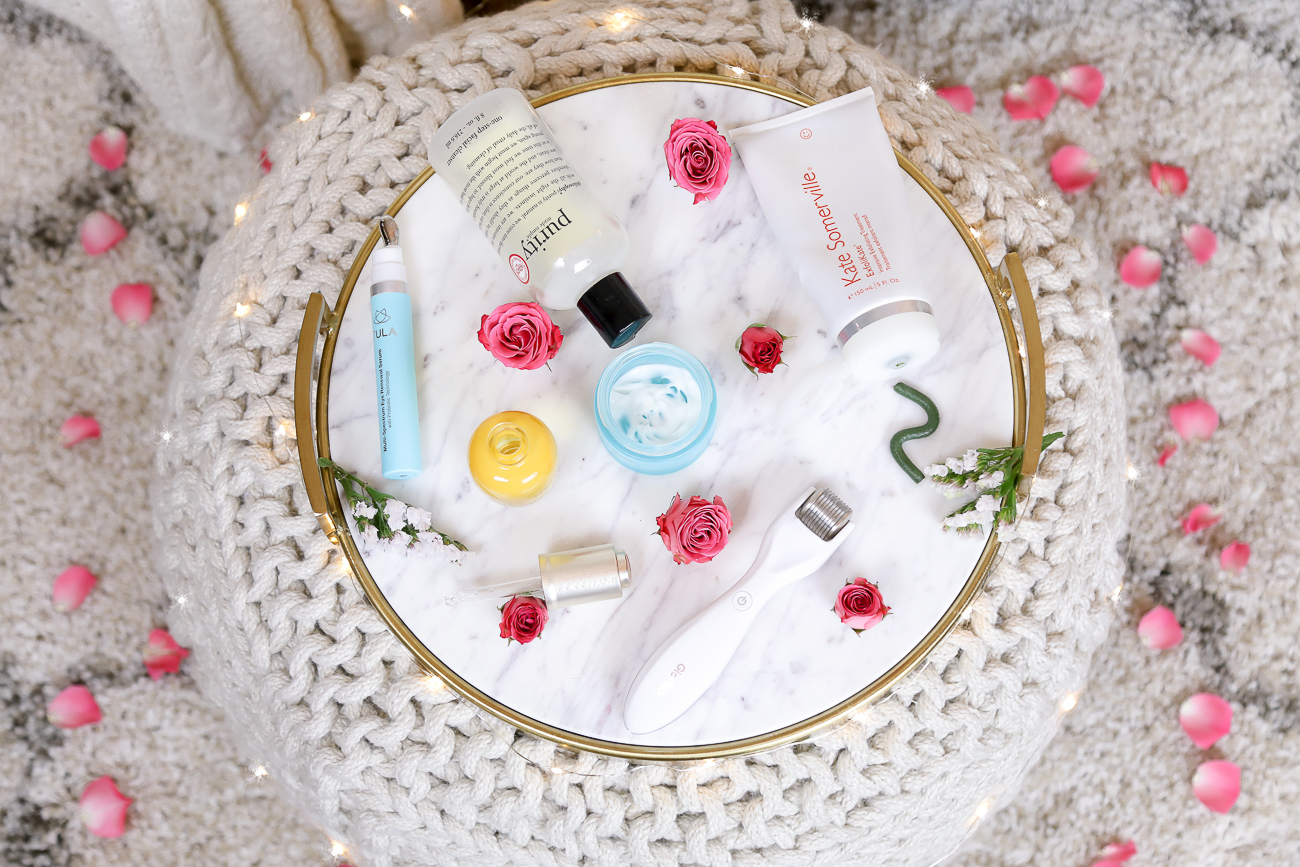 O U T F I T – D E T A I L S 
R O O M – D E T A I L S 

FIT TIPS:
-Top runs TTS. I'm wearing an XS.
-Jeans run TTS. I'm wearing size 24.
I'm 5'1″. Typically wear 6.5-7 in shoes. XS/0 in tops and dresses. 24 in Jeans.
-SHOP THE POST-

Brought to you by Nordstrom.