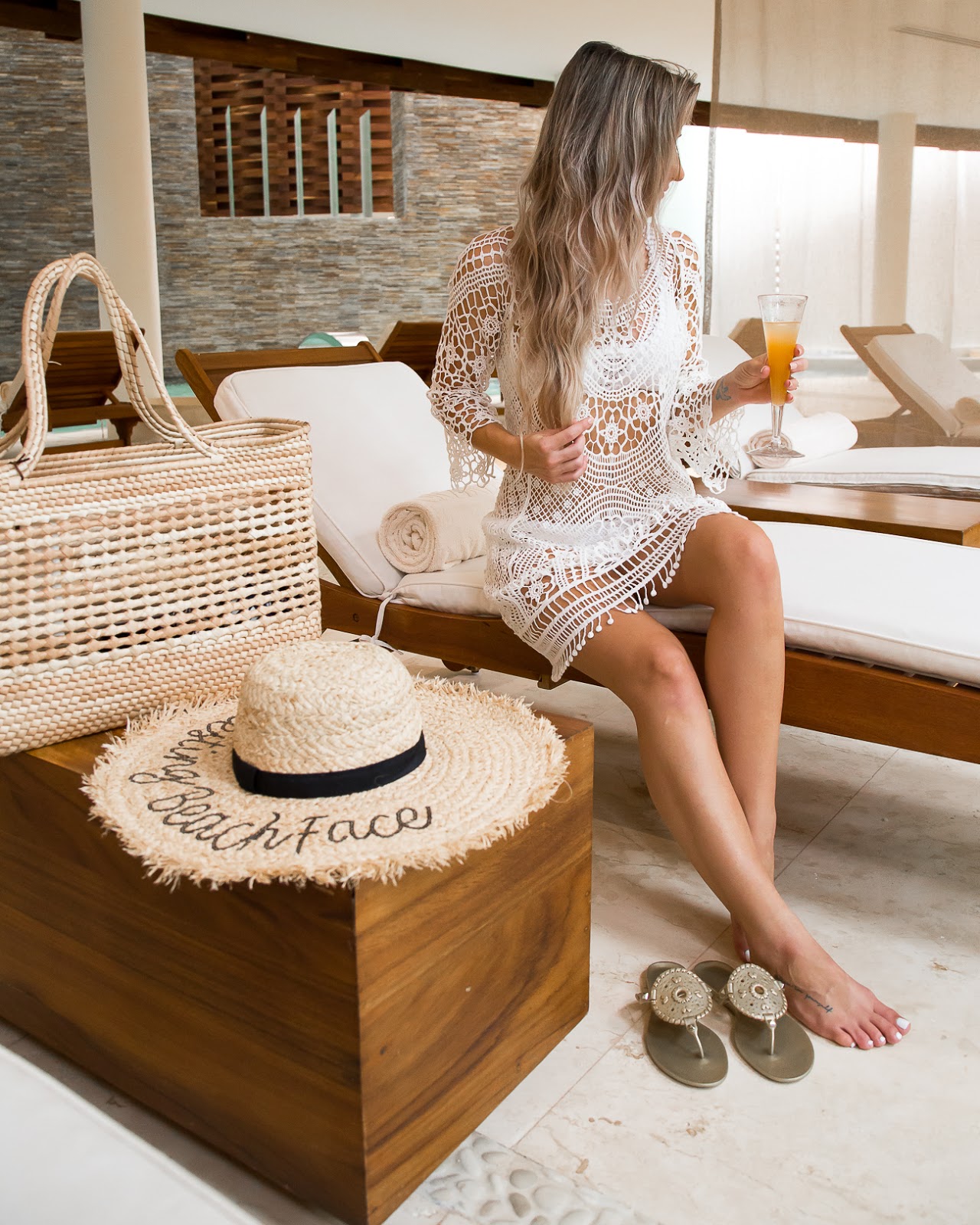 Can every week end with a spa day?!?
During our stay at  
Grand Velas Riviera Maya
all of us girls had a relaxing morning at the spa and got to experience a hydrotherapy treatment. It was such an incredible experience! Here were the 8 steps in this hydrotherapy experience…
Before we began, we rinsed off in their Experience Showers with jets above and on the sides of the shower.
Who doesn't love a sauna? The sauna was wood in it's interior and quite large! It felt so good to relax in silence for a little. They gave us cool towels to wipe our faces and cucumber slices to put over our eyes. We spent about 10 minutes in the sauna!
I was a little worried about this room…While it was chilly, it felt really good after just coming out of the sauna. It also smelled like fresh mint. We spent maybe 5 minutes in here!
This room was similar to the sauna but a lot more moist and pitch black. There were little lights around the room that changed color throughout the experience. We spent maybe 8 minutes in here too!
After the steam room, we headed into the clay room. They handed us these little tubs of clay to rub all over our skin. It was basically like giving your entire body a face mask. We spent about 10 minutes in here. At the end, we washed off the clay with handheld individual jets.
 Basically, this part of the journey consisted of 2 very long water pools/pathways. The bottom of the pool is paved with sensory pebbles and the water comes up to your knees (think of it as a shallow wading pool). The first pathway is warm, the second is cold. This walk takes only a few minutes.
There were 3 huge waterfalls just past the polar pools of different shapes. You were supposed to sit under them and let the jets massage your back! We didn't spend a long time here – we just moved through them into the Bubble Volcano.
This part of the Water Journey was intended to get the circulation in your legs going. There are jets coming from below in a corner of this larger pool which also holds the Waterfalls and the Bubble Beds. You stay there for a few minutes before moving on. It basically felt like a hot tub! We stayed here for 5 minutes.
I could have stayed here all day! You had a view of the entire spa from here. There were cement beds shaped to fit your body with neck jets at the top. The water was nice and warm too! Sooo relaxing!!
We had such a relaxing morning at the  
Grand Velas Spa
, and the entire experience was very luxurious!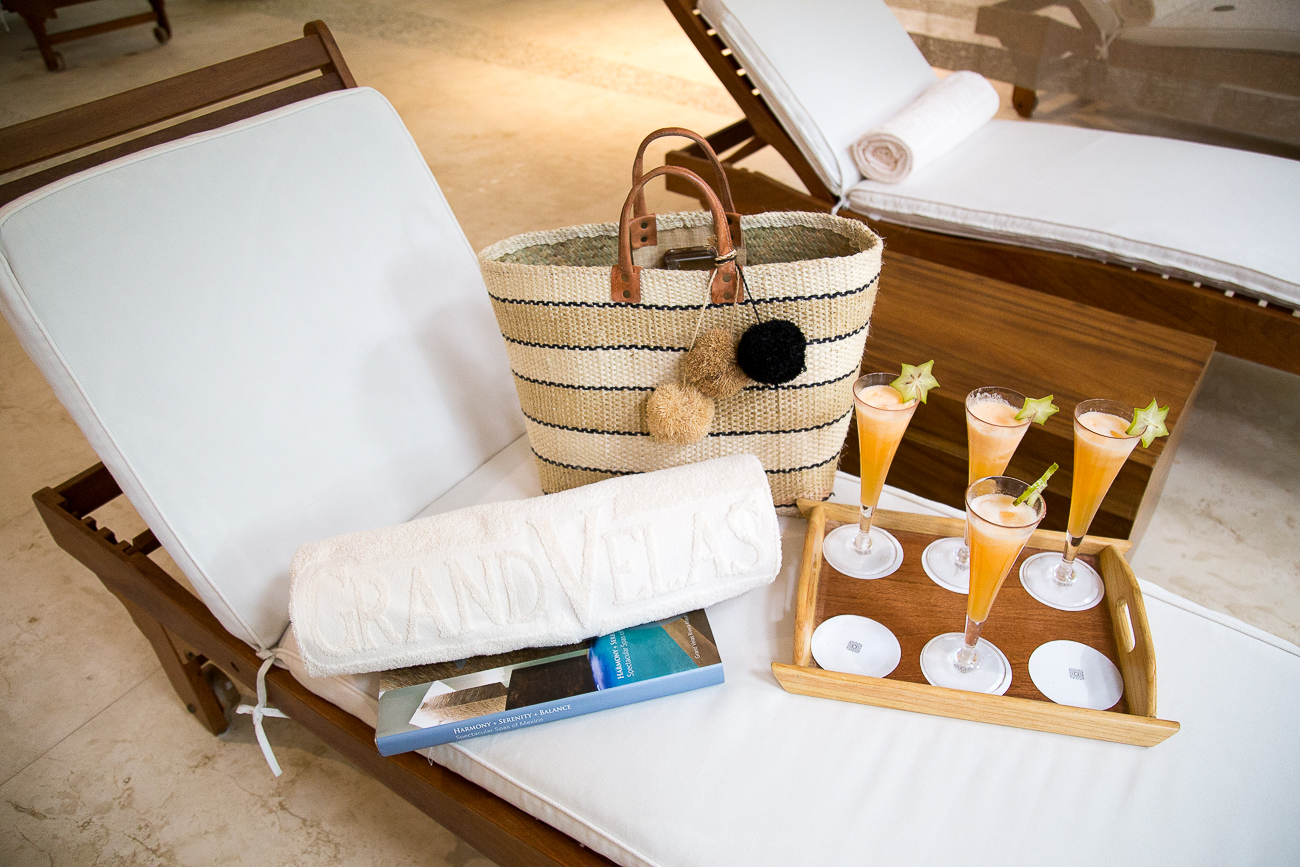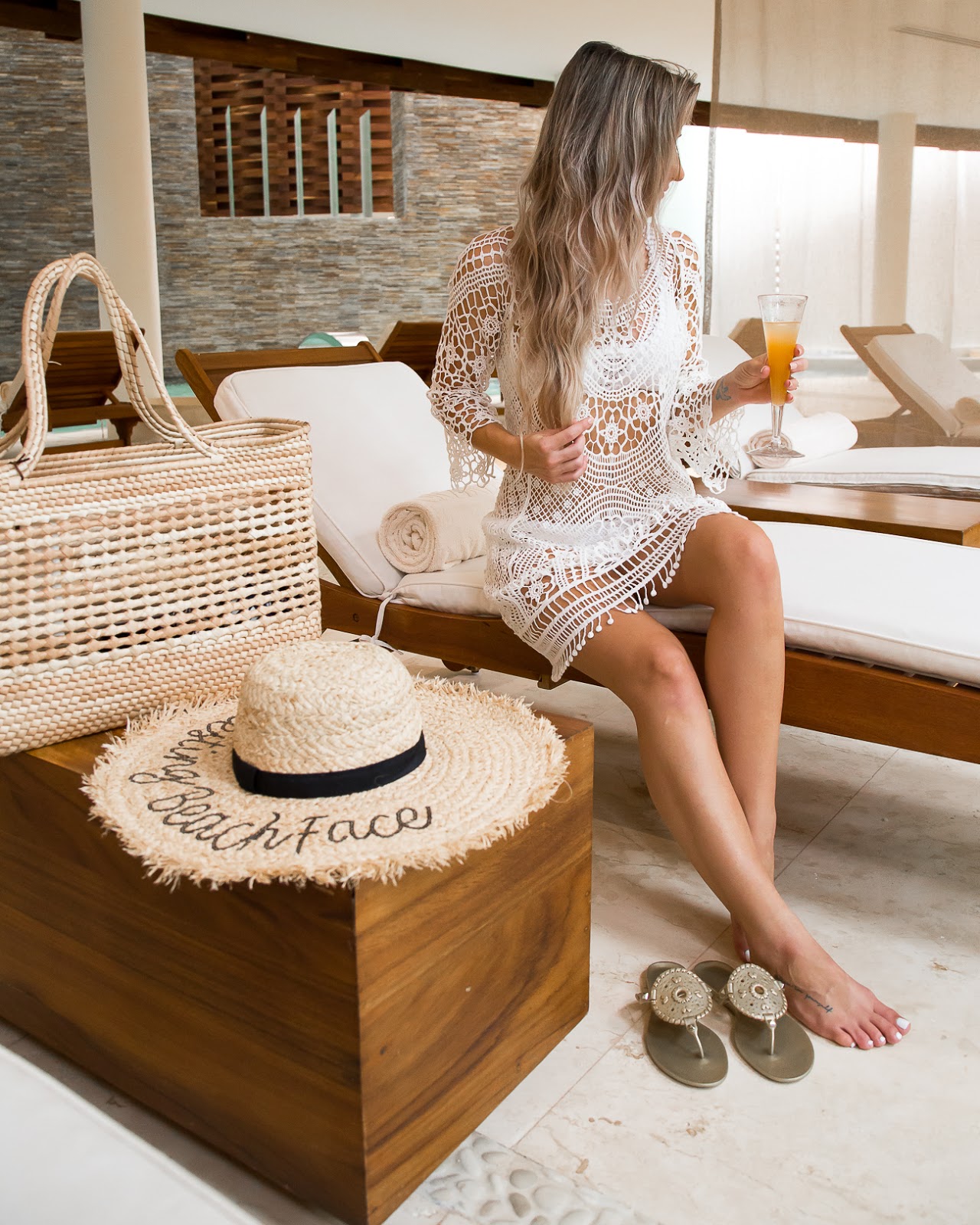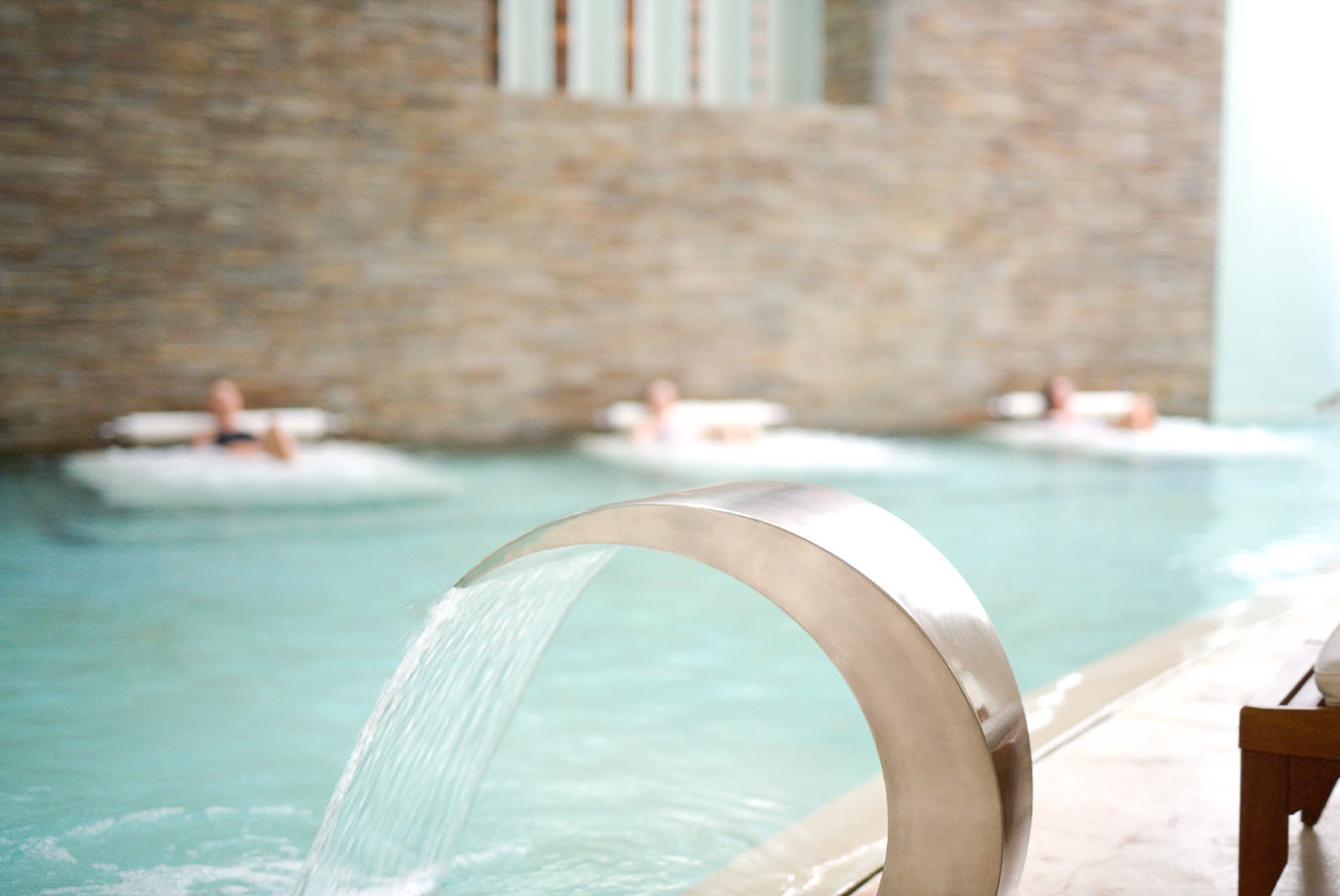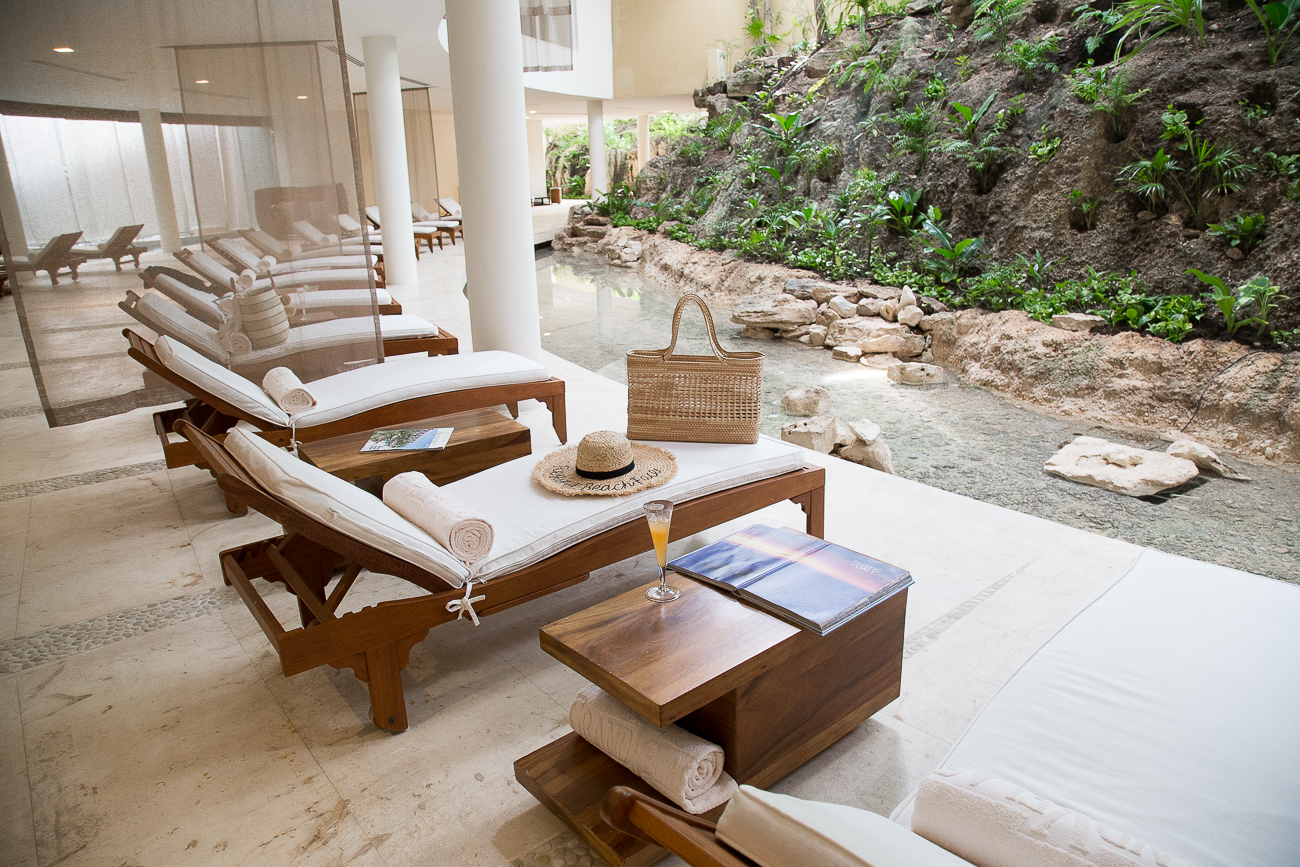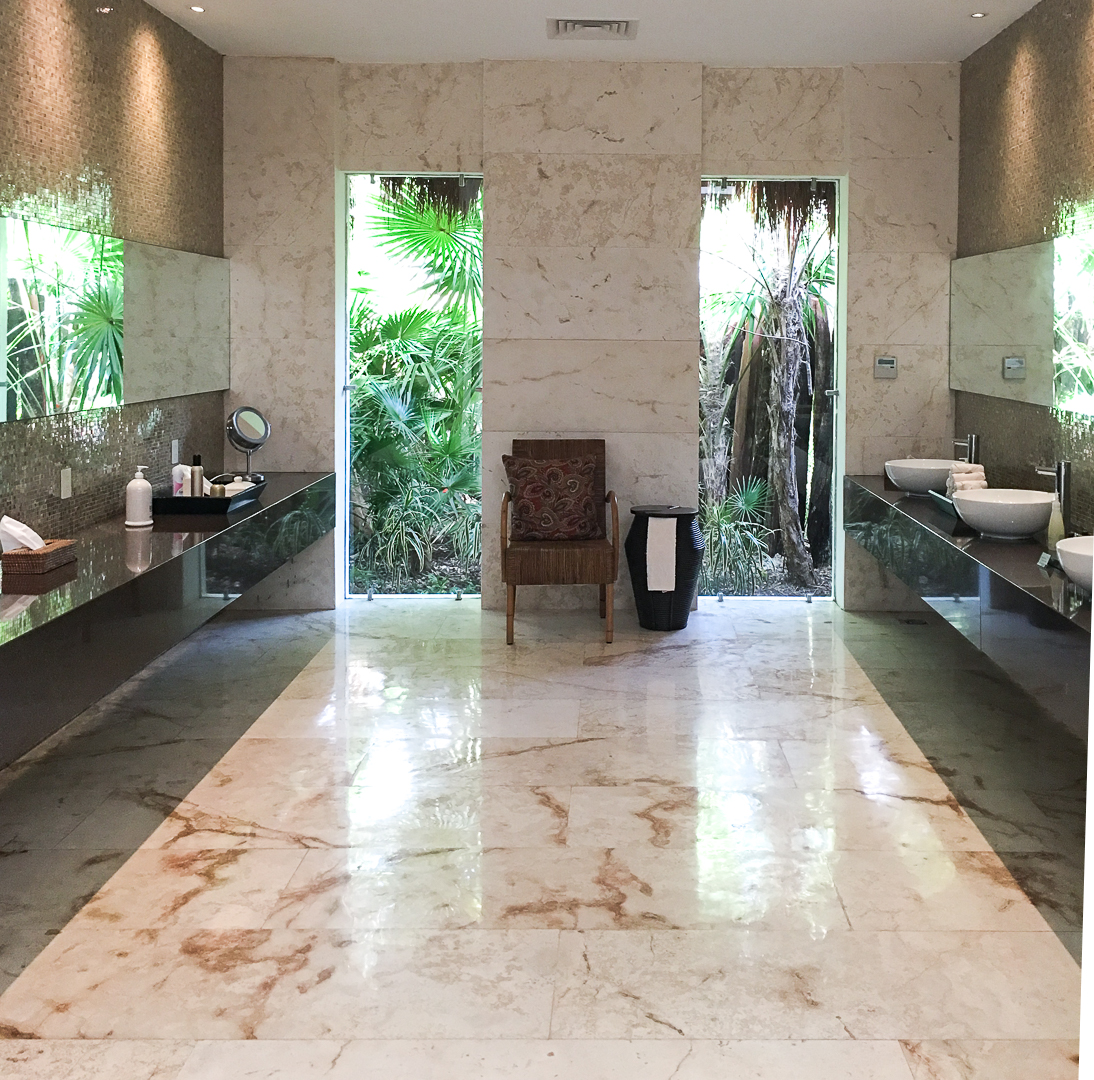 O U T F I T – D E T A I L S 
FIT TIPS:
-Swim top runs TTS. I'm wearing a small.
-Swim bottoms run a little big for swim. I'm wearing an XS. I usually wear a small.
-Sandals run a little big. I'm wearing a 6.
Sizing reference:
I'm 5'1″. Typically wear 6.5-7 in shoes. XS/0 in tops and dresses. 24 in Jeans.
-SHOP THE POST-