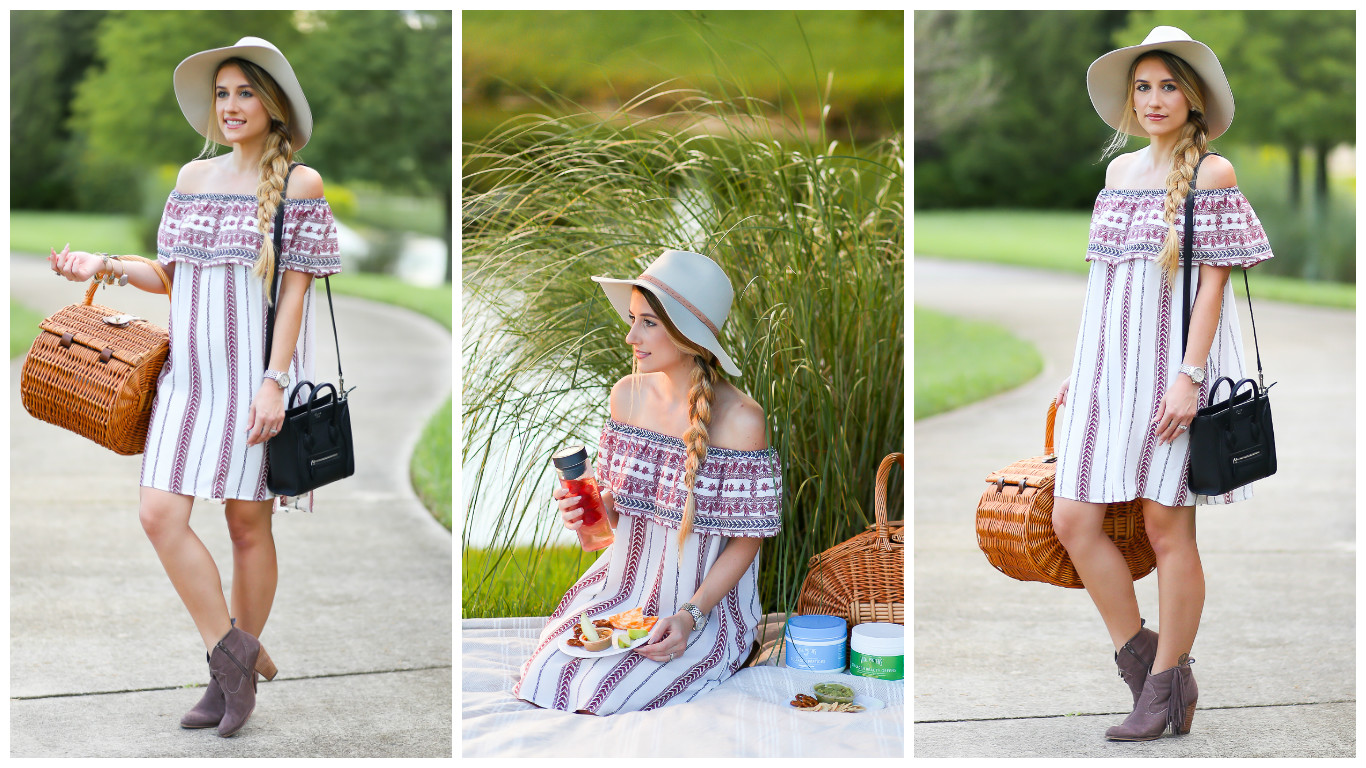 As summer comes to an end, the days get shorter and we lose our long summer days. I'm taking advantage of the summer sun and getting outside as much as I can. The other day we packed up some goodies and headed out for a late picnic. We watched the sunset and munched on snacks. It was sooo nice, THEN we hauled it back to the truck while getting eaten alive by mosquitoes–true story!! Gotta love Florida!
I was recently introduced to
Vital Proteins
and was so intrigued by the products. Their line of anti-aging powders promote health, fitness and natural beauty. Plus, when I heard Jennifer Aniston uses the
Collagen Peptides
daily saying it has helped her hair nails, and gives her skin a healthy glow…I was like
"YES, please! Sign me up–I'll take one of everything"
(jokes)!!! But seriously, Jenn is beyond gorgeous and her skin looks incredible at her age. Clearly she's doing something right!
So what does it do?
Vital Protein powders contain nourishing collagen and promote our production of collagen–something that our bodies lose as we age, causing wrinkles, fine lines, dull skin, and loss of mousture. Collagen is the most abundant protein found in the human body, it's what holds your whole body together and is found mainly in our skin and bones. These powders promote youthful skin, healthier hair, stronger nails, as well as strengthens bones, promotes healthy immune, digestive, and central nervous systems.
I've been using these powders for a about 6 weeks now and have definitely noticed a difference. My skin is more radiant and is smoother with less blemishes. Since using Vital Proteins, my hair is shinier and my nails are growing like crazy. Right now I'm using the
Collagen Peptides
,
Beauty Greens
,
Marine Collagen
. I added the Collagen Peptides to my strawberry flavored water. I also add it to my coffee and hot tea in the mornings–you can't even taste it! For our picnic, I added the Marine Collagen to my peanut butter and dipped my apples and pretzels in it–yum! Both are virtually tasteless and resolve in water–so basically they can be added to anything you normally drink. The Beauty Greens have a little more "green" flavor so added it in with my guacamole dip.
Other yummy recipes can be found
HERE
.
Here is a list of Vital Protein benefits:
Promotes youthful skin, healthier hair, and stronger nails
Improves skin smoothness & revitalizes skin tone
Helps prevent the signs of aging
Reduces fine lines & increases skin moisture
Heals skin and reduces redness
Contributes to a balanced diet and helps maintain weight
Helps keep bones healthy and strong & supports joint health
Natural glycine promotes healthy immune, digestive, and central nervous systems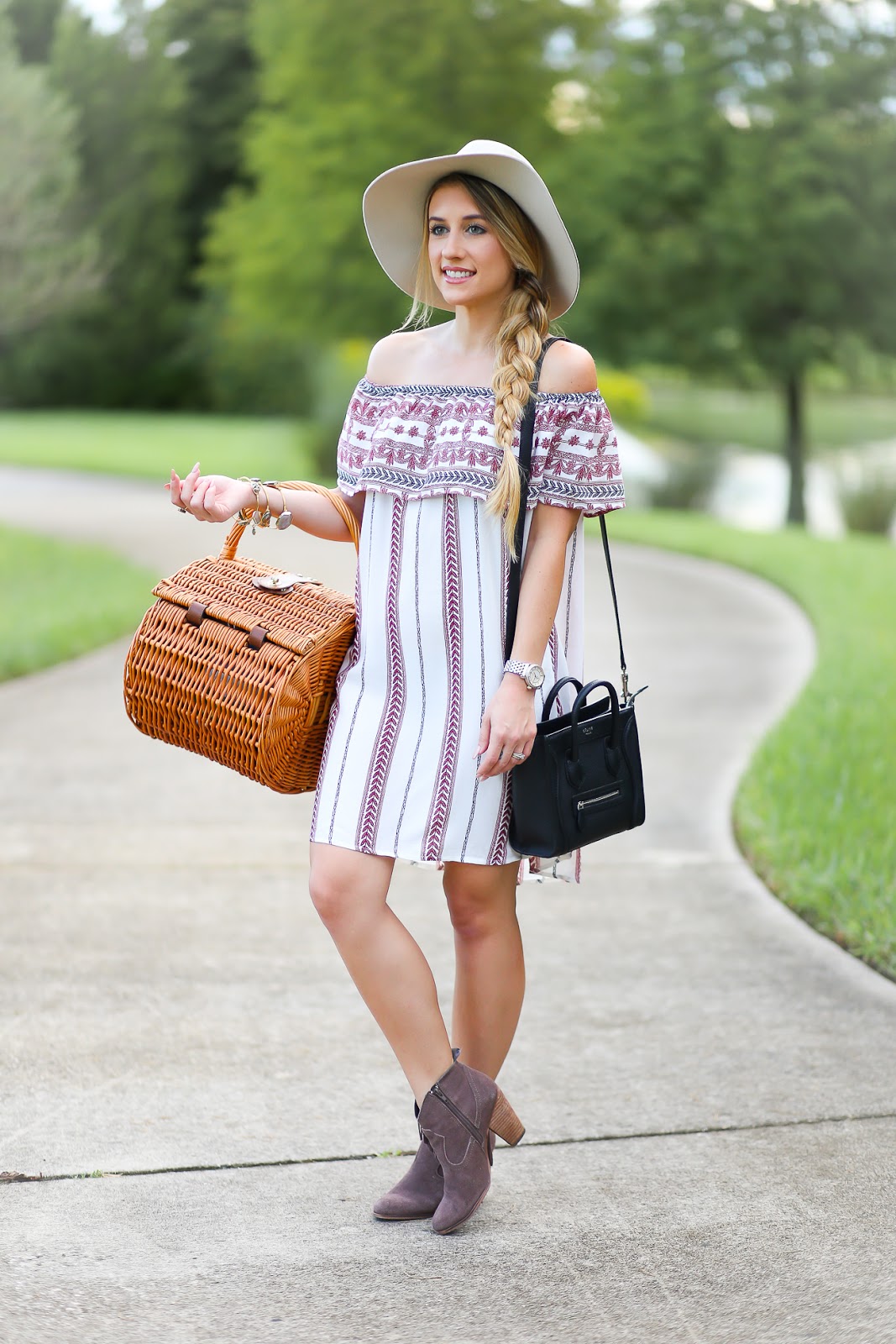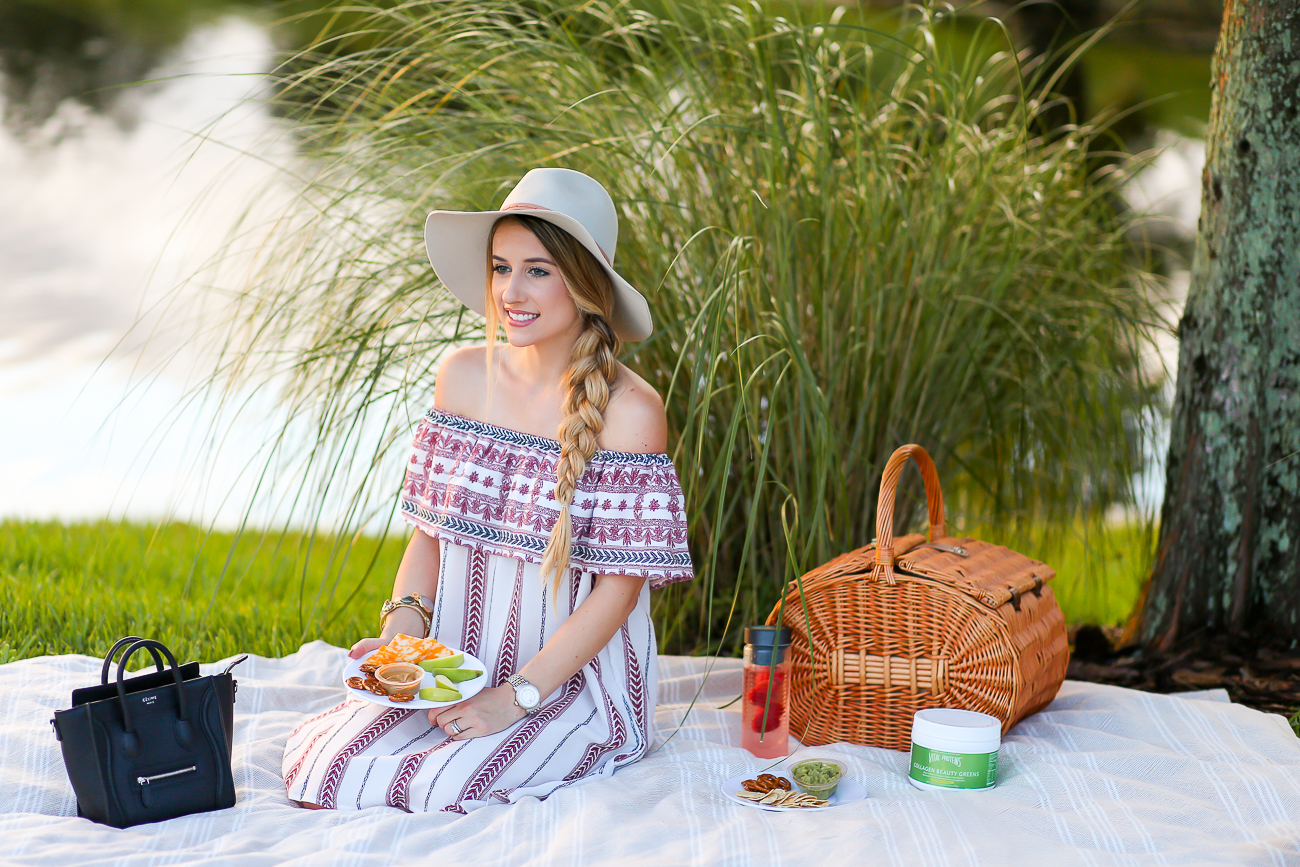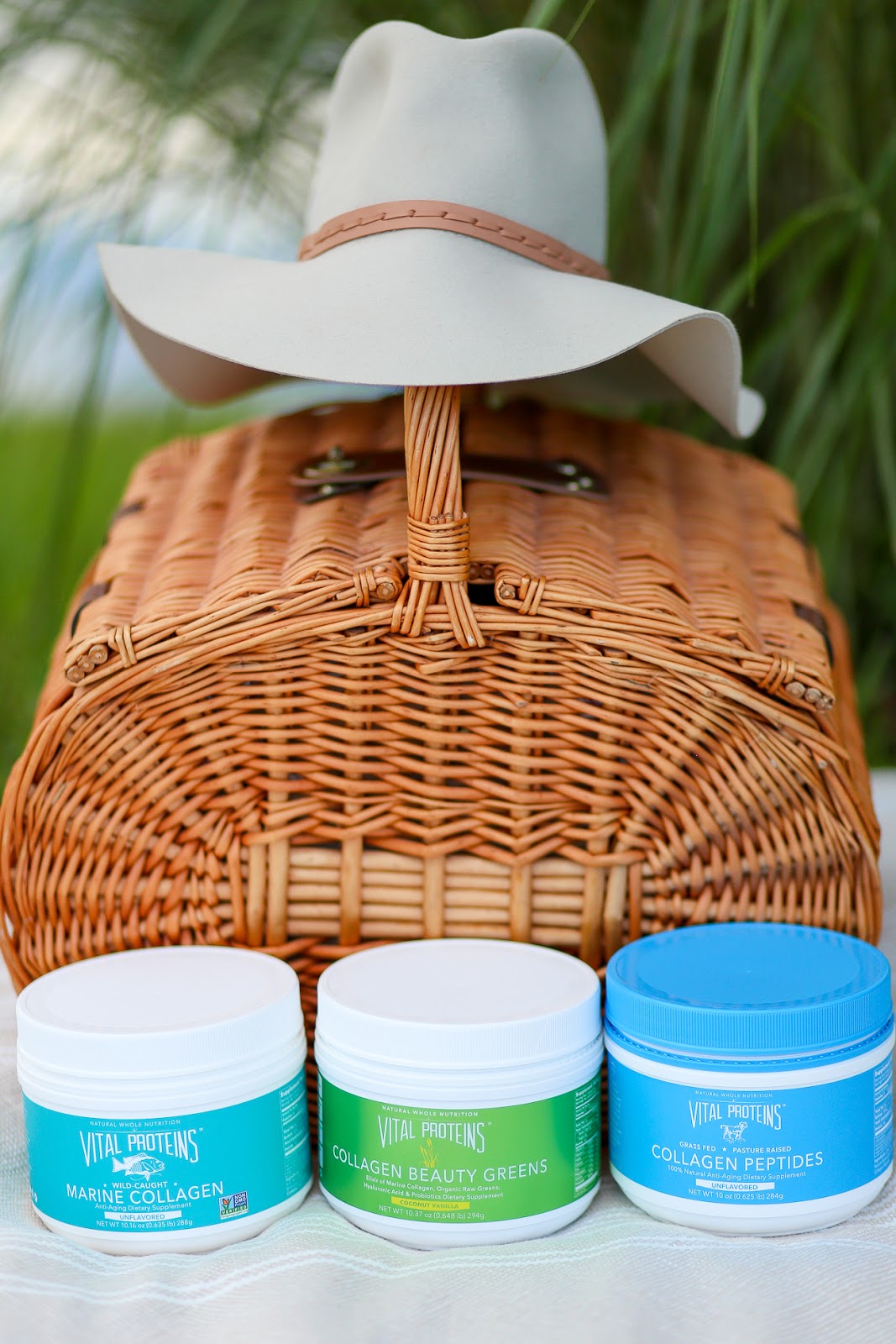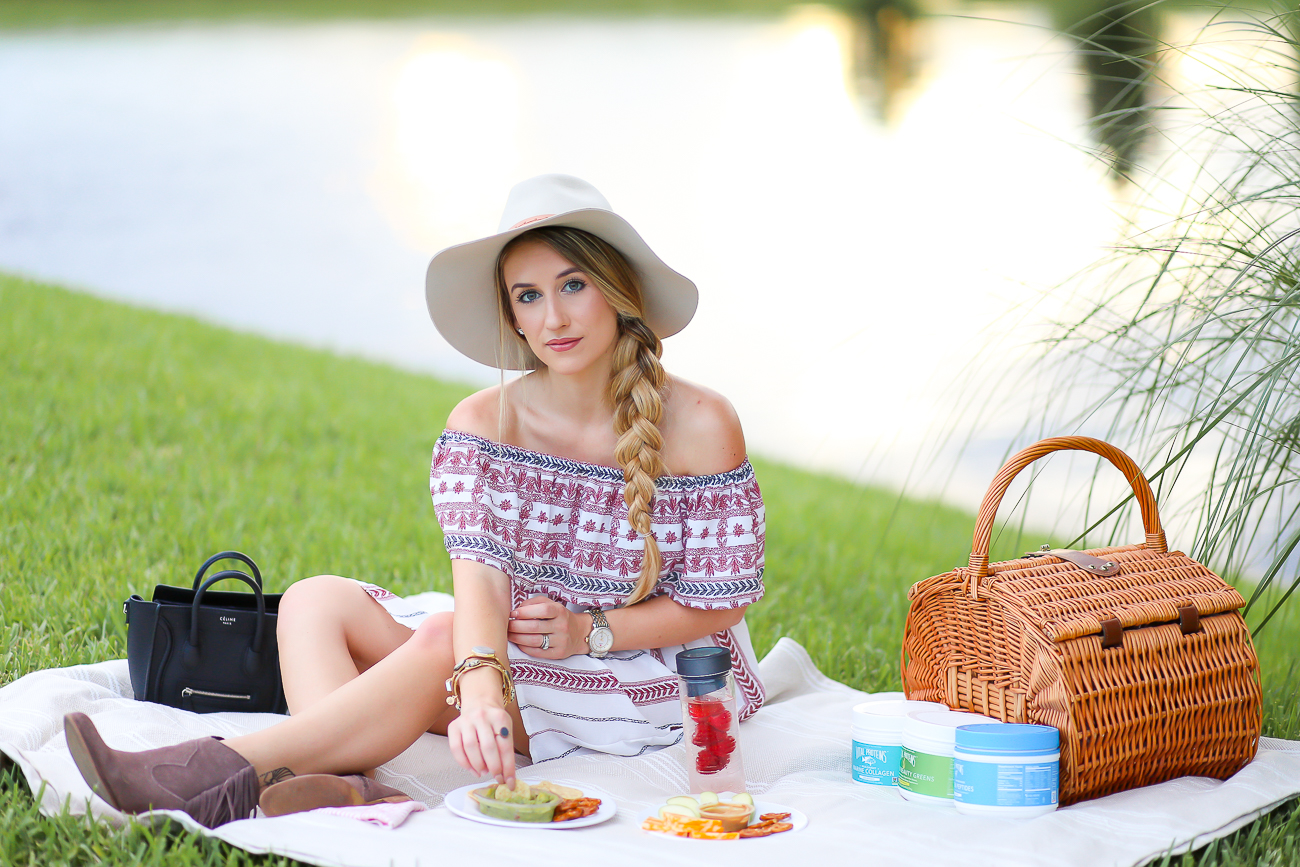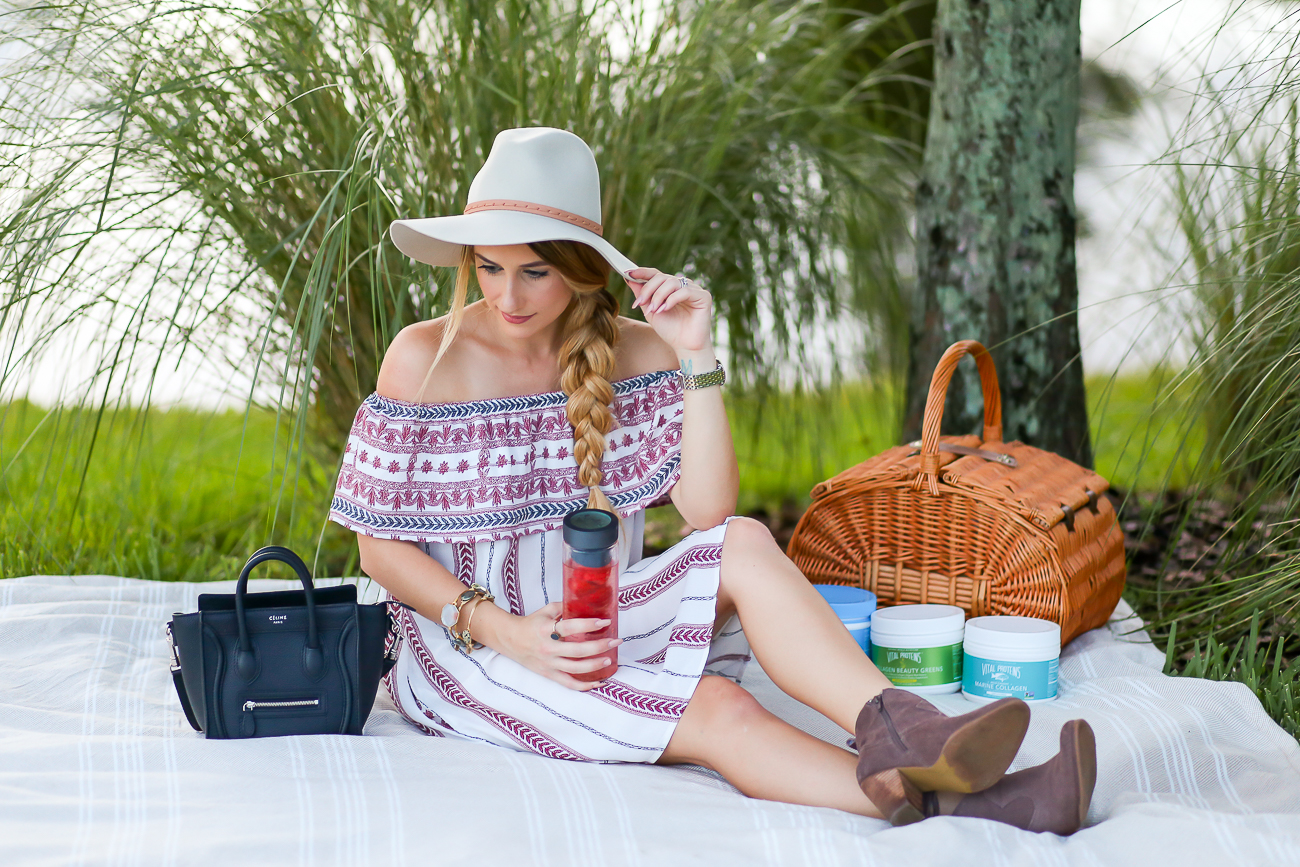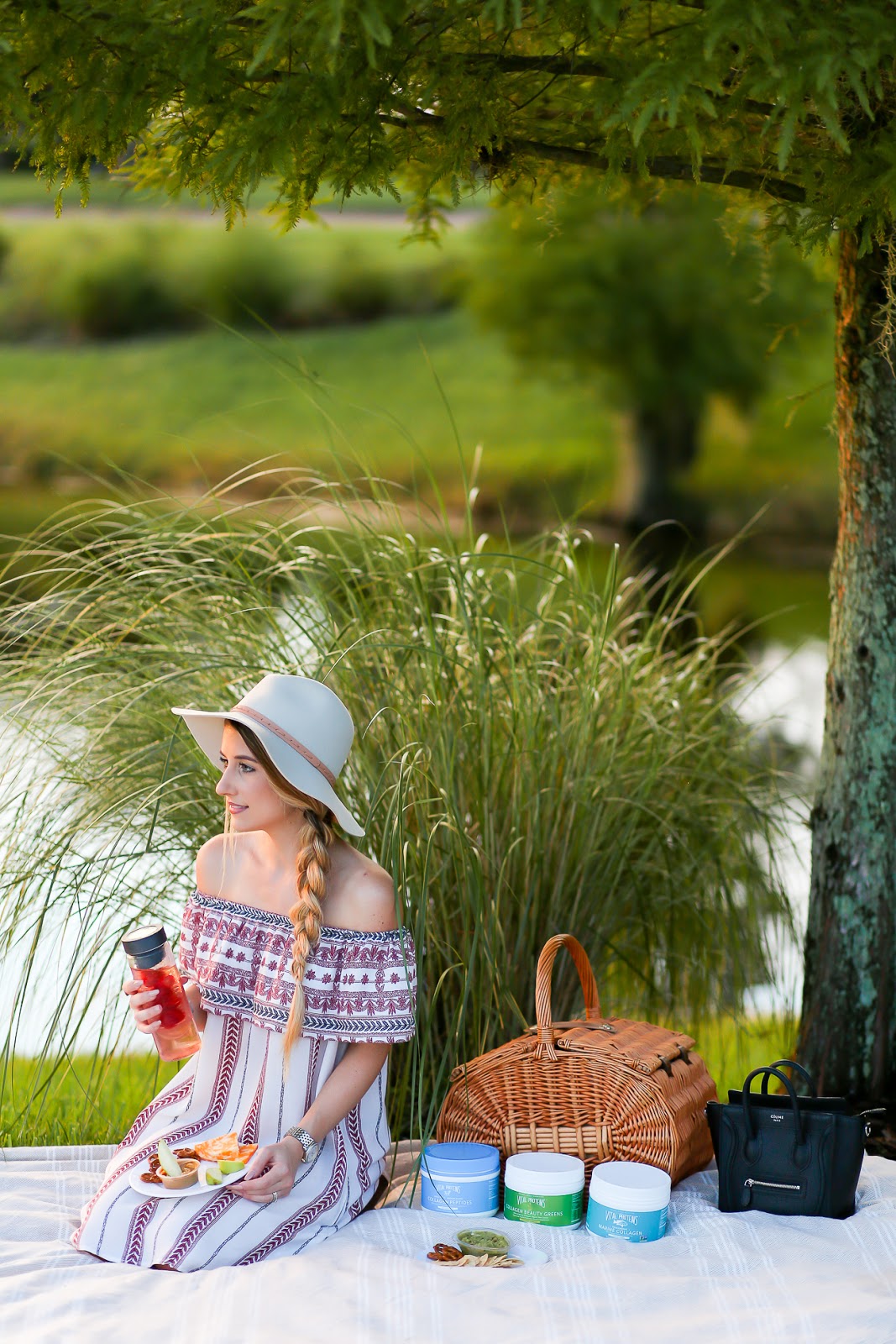 O U T F I T – D E T A I L S
Have you tried Vital Proteins?
Let me know if you have and how you like to use it.
Thanks for stopping by!
FIT TIPS:
-Dress runs true to size. I'm wearing an XS.
-Booties run true to size. I'm wearing a 7.
-Hat runs true to size. I'm wearing a Small.
Sizing reference:
I'm 5'1. Typically wear 6.5-7 in shoes. XS/0 in tops and dresses. 24 in Jeans.
-SHOP THE POST-
(All opinions are my own)