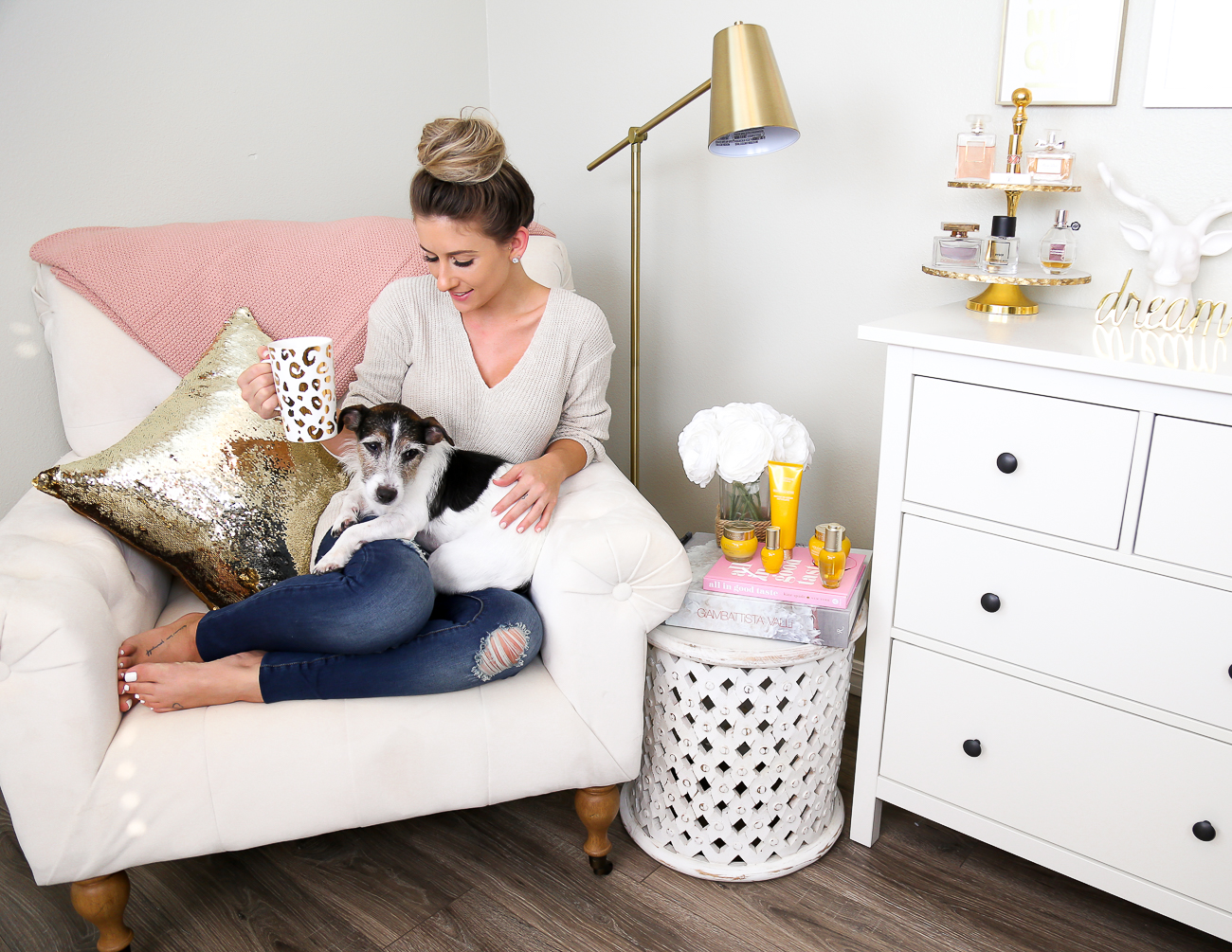 Today I want to share 5 L'Occitane products I've been using daily that have given me healthy radiant skin. Over the last year I've taken skincare very seriously. I've been blessed with pretty normal skin my entire life but all of that changed last year. Out of nowhere my face completely changed and was breaking out constantly. This wasn't just a small blemish here and there. No, this was cystic acne! My face literally hurt everyday and was covered in uneven texture. After multiple trips to the dermatologist and a medical esthetician, it was determined that I was experiencing a hormonal shift, which was causing my skin to go crazy.
With all of that being said, over the last year I have been religious about my skincare regimen and have worked very hard to keep my skin healthy. Today my skin is smooth, soft, and radiant. [[praise]]
Here is my 5 step skincare routine…
Step 1: Remove makeup
I remove all of my makeup with the  
L'Occitane Divine Cleansing Balm
, warm water, and a clean washcloth. When mixed with water this balm melts away makeup–even waterproof mascara. This cleansing balm feels silky smooth and leaving my skin feeling super soft.
Step 2: Cleanse
After I've removed all of my makeup, I use the  
Divine Foaming Cleansing Cream
. I am all about double cleansing–especially at night to make sure my skin is free from all impurities. This cleanser is very gentle and moisturizing. I am always sure to use a clean towel when drying my face–I never reuse towels or washcloths on my face.
Step 3: Prevent/treat
After my face is "so fresh and so clean, clean" [[remember that song?]] I use the  
L'Occitane Divine Eyes creamy eye gel
. I am all about preventative maintenance. This eye cream helps smooth the appearance fine lines and visibly reduces the appearance of dark circles and puffiness–Yes, please! I use a small pump under each eye. I am obsessed with this stuff!
Step 4: Get glowing
Next I apply the  
Divine Youth Oil
. Yes, I intentionally put oil on my face and I'll never go back. This face oil makes my skin look and feel amazing–I can't go without it. I apply this all over my face and neck. Not only does it fight visible signs of aging, it leaves my skin looking radiant and plumper.
Step 5: Moisturize 
Last but surely not least, I apply the  
L'Occitane Divine Cream moisturizer
. First of all this cream smells amazing–my husband has even started using it. Second, I swear my skin is smoother since I've started using it.  I apply this to my face, neck, and décolletage.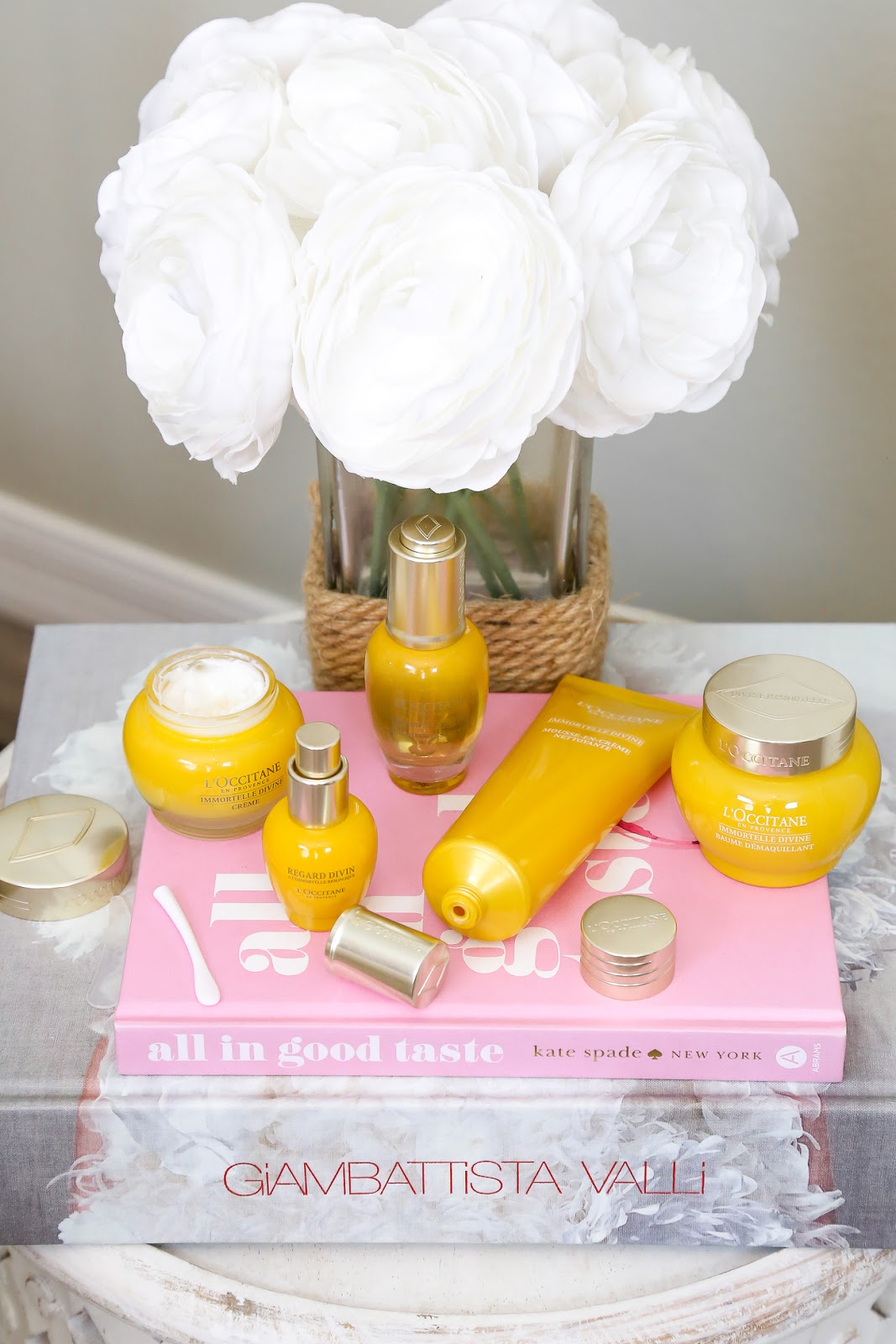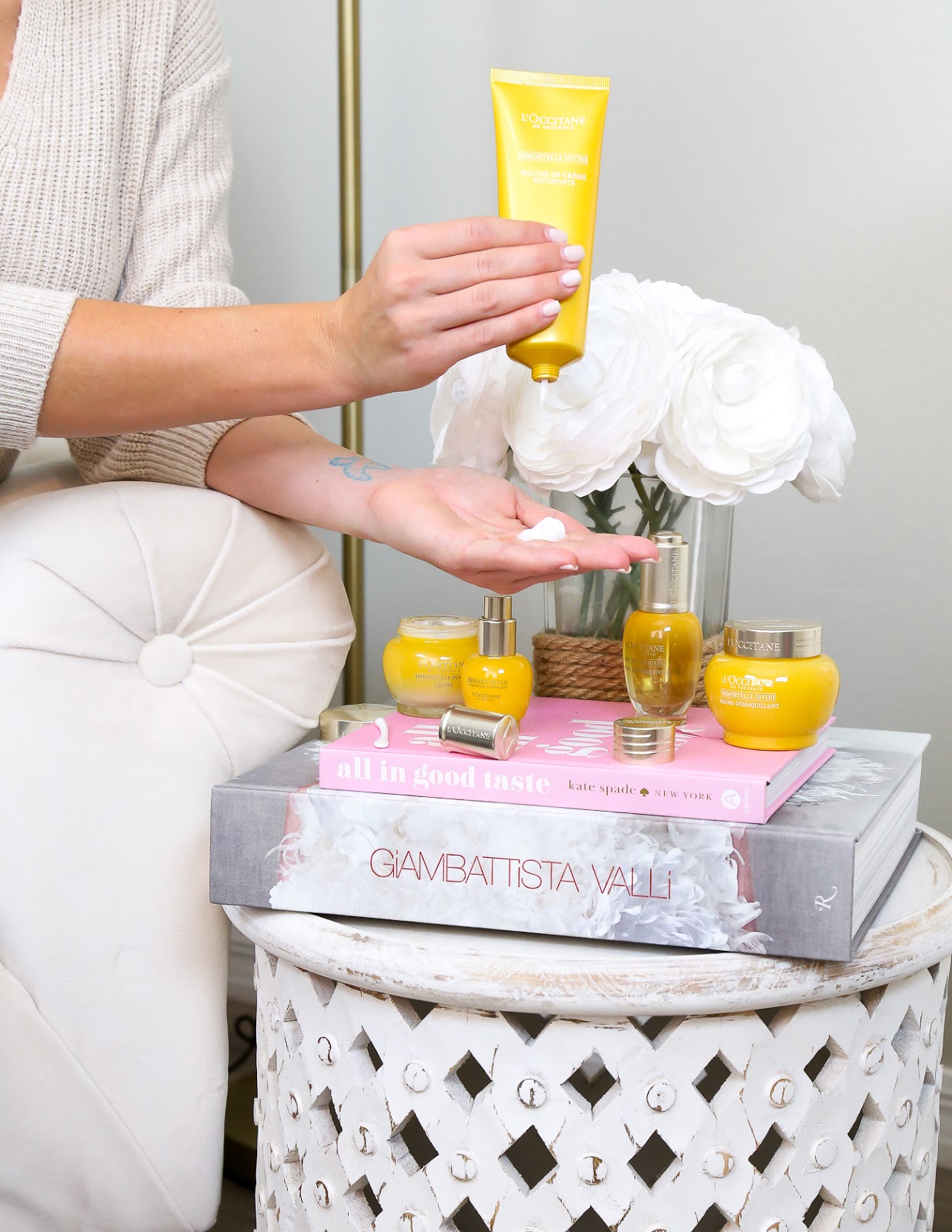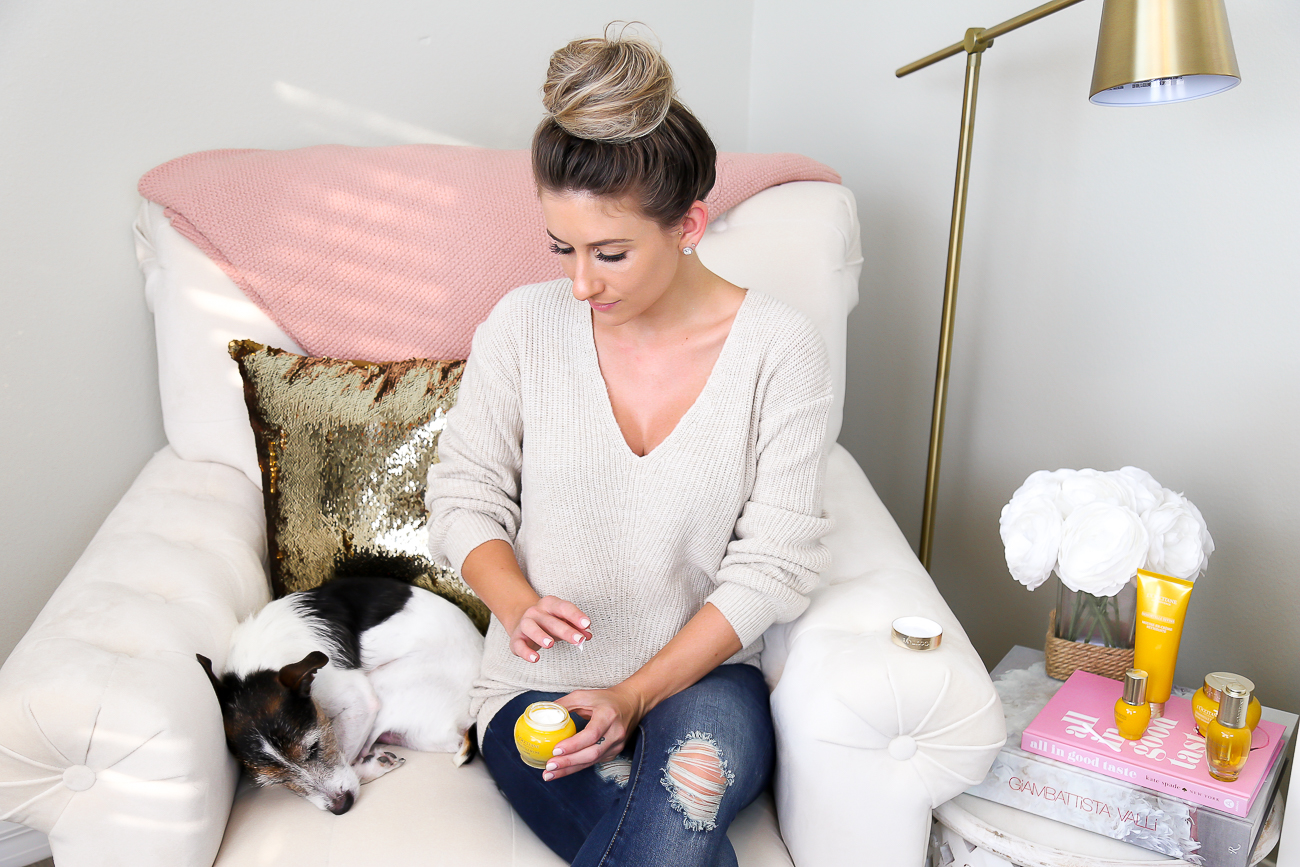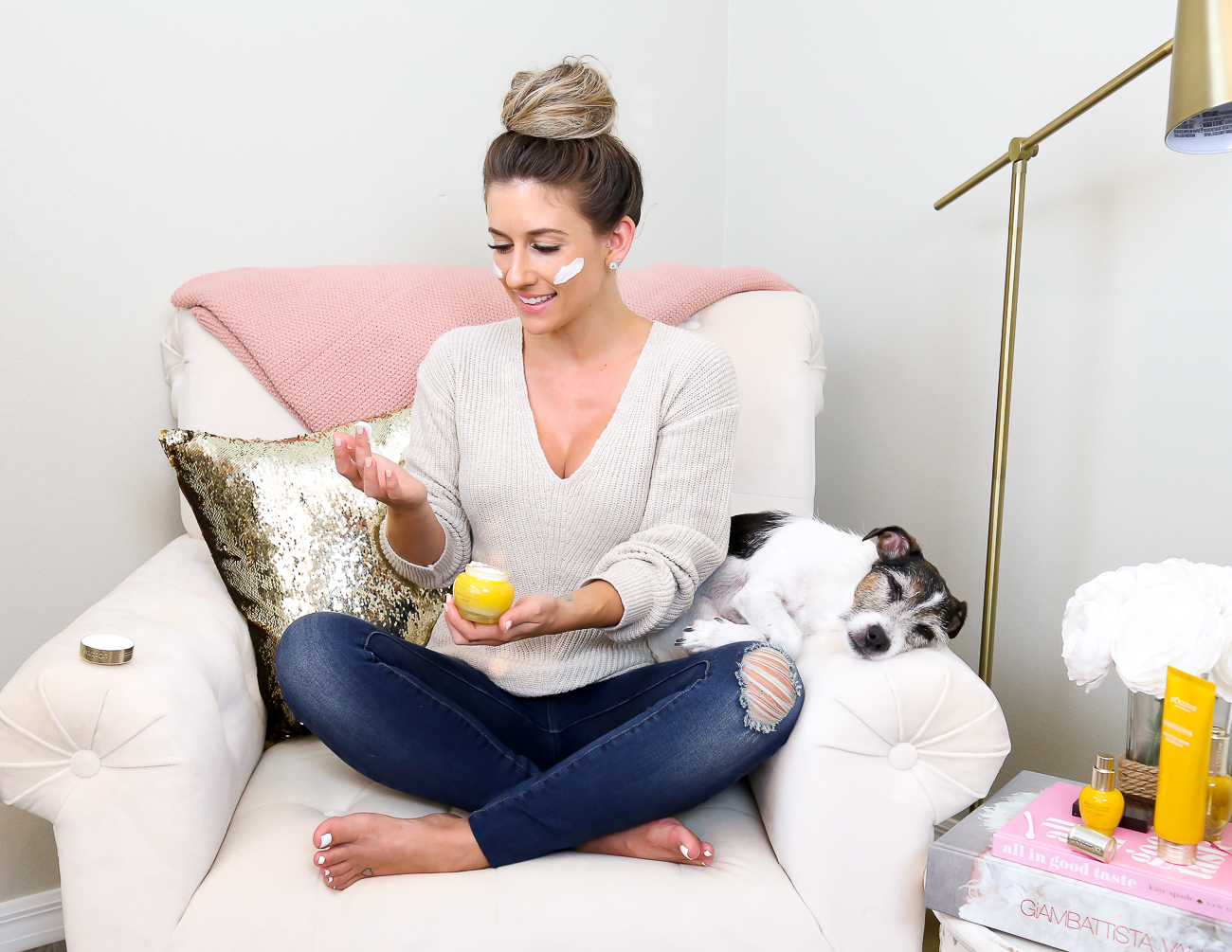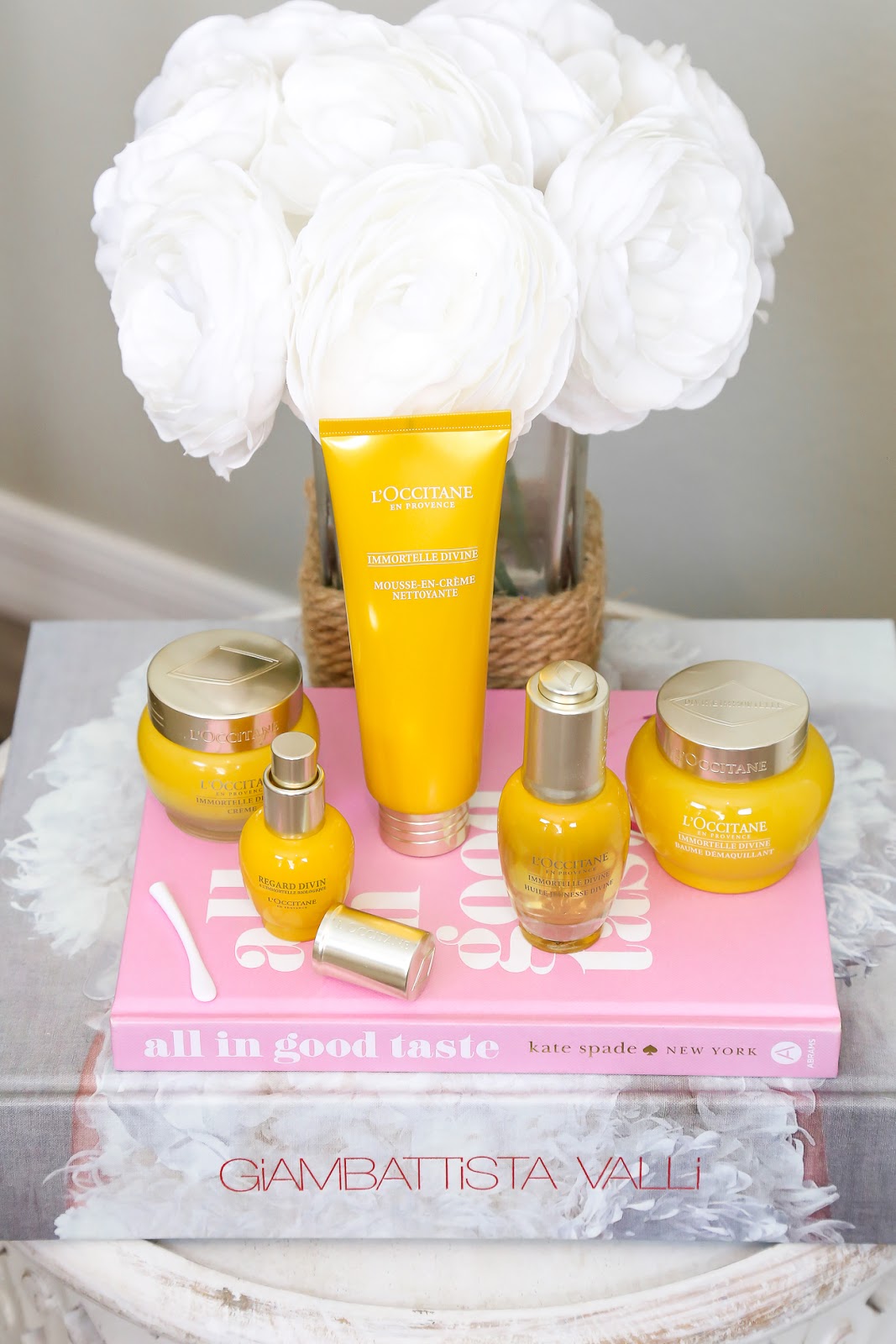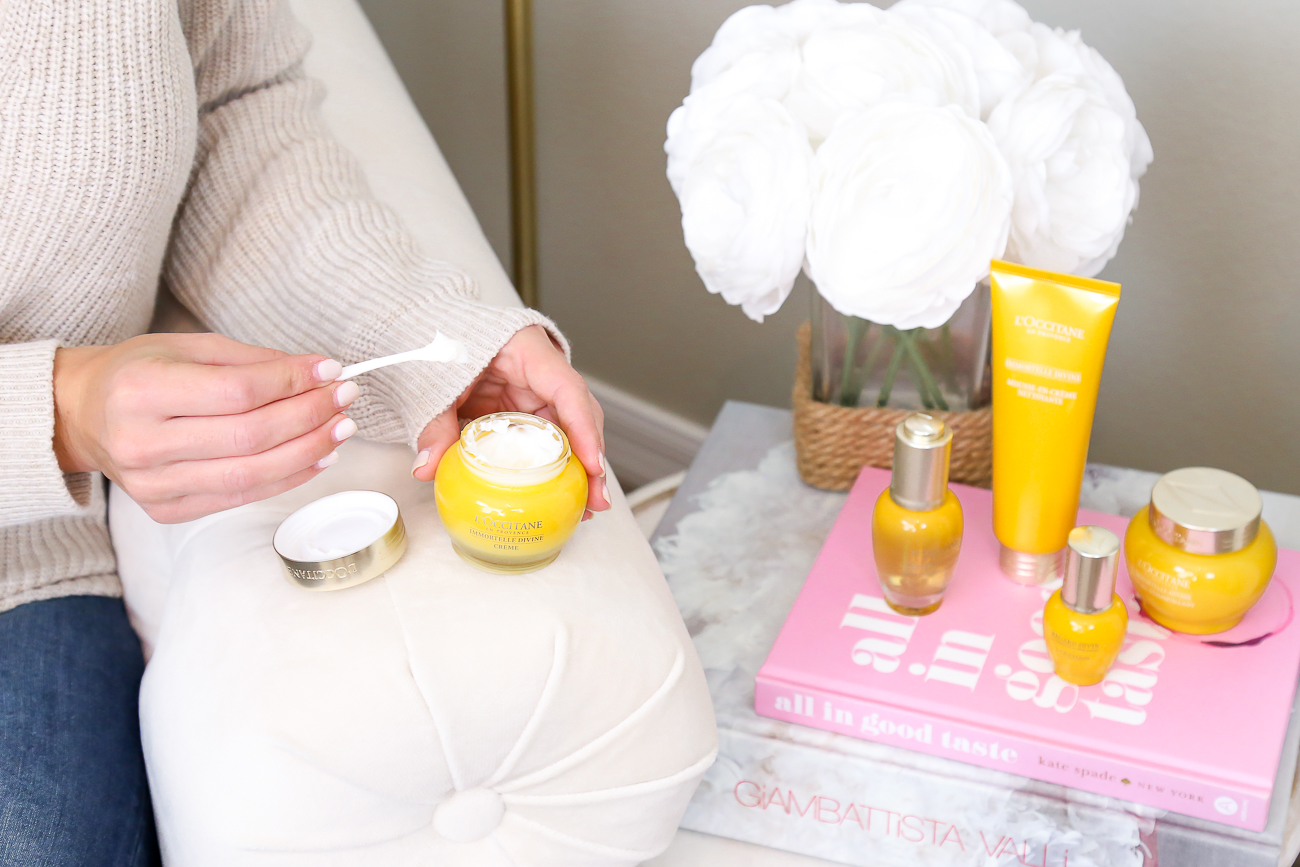 O U T F I T – D E T A I L S

FIT TIPS:
-Sweater is a little oversized. I'm wearing an XS.
-Jeans run TTS. I'm wearing a 24.
Sizing reference:
I'm 5'1″. Typically wear 6.5-7 in shoes. XS/0 in tops and dresses. 24 in Jeans.
-SHOP THE POST-